4 Berney Dr, Caledon, Ontario, L7C0B8
The early morning mist slowly lifts to reveal a quiet, winding lane lined with lush foliage on both sides. The stillness is soothing, the air, pure and pine-scented. Occasionally through the shrubbery, you see a glint of sunlight on water. The lane turns a corner, and then suddenly, there it is, the lake in all its scenic glory.
It's a sight you'll never tire of. The blue waters lapping against the shore. The majestic limestone cliffs of Scarborough Bluffs. A vibrant community that still retains its historic charm. This is Birch Cliff in Toronto's east end, an idyllic neighbourhood with a perfect "close enough, far enough" relation to the city.
In this charming oasis at Kingston Road and Birchcliff Avenue, an intimate enclave of modern Townhomes invites you with elegant design and contemporary style. To the west is the prestigious Toronto Hunt Club. To the east, the picturesque Rosetta McClain Gardens. And in between, a microcosm of cafés, bistros, schools and parks that add colour and richness to this community.
Welcome to Birchcliff Urban Towns. Welcome home.
Sleek and modern kitchens are fitted with quality stainless steel appliances.
Open concept interiors are light-filled with expansive windows.
Sophisticated spaces that express today's modern lifestyles.
CALL (416) 821-1343
… or Schedule a FREE Consultation
Building Amenities
Chic modern design meets vibrant outdoor living
in every two-storey Urban Town at Birchcliff.
A Modern Urban Aesthetic
A striking facade of beige stone, rich dark brick and large windows sets the tone for modern sophistication. 52 urban towns are arrayed in a master-planned design around a central landscaped courtyard garden. Underground parking with bike and locker storage means on the surface you have manicured walkways and gathering spaces. The two-storey designs offer contemporary, open concept layouts with garden or rooftop terraces for vibrant outdoor living. Elegant finishes accent a chic design palette of clean lines and natural, organic textures to offer a more refined taste in living.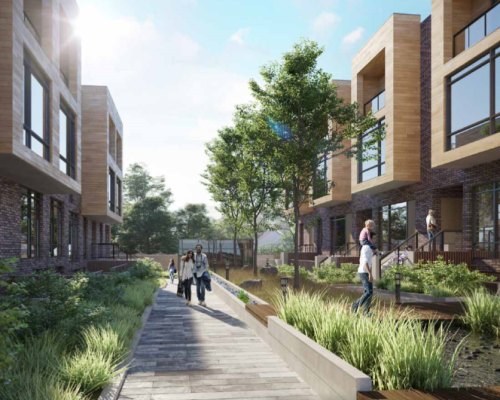 Take It Outside
We Canadians love the outdoors and Birchcliff Urban Towns offers ample opportunities to live it up under bright blue skies or magical starlit evenings. Head over to your rooftop terrace and treat loved ones to your barbecue skills. Or toast a special occasion in your beautiful garden terrace surrounded by lush plantings. Either way, you can entertain in style.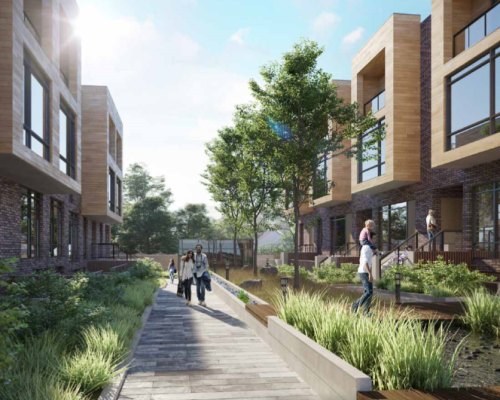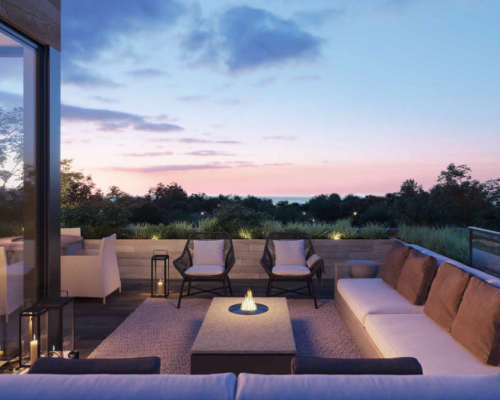 A Rooftop Oasis
Sitting on your rooftop urban oasis, you gaze upon the breathtaking vista in front of you. The lush green treetop canopy gives way to the alluring blue waters of Lake Ontario and the stars above. Over to the far west, the city lights and outline of Toronto's skyline. Friends and family gathering for a weekend party. The aroma of the barbecue, the clink of glasses… yes, life is good at Birchcliff Urban Towns.
EUROPEANSPA – INSPIRED BATHROOMS
European-inspired bathroom cabinetry in choice of two standard schemes
Quartz countertop and undermount sink in choice of two standard schemes
Quality 12" x 24" porcelain tile flooring
Frameless glass shower enclosure with porcelain tiled walls and waterproof polymer base
Soaker bathtub
Recessed ceiling lighting over the bathtub and shower
SAFETY AND SECURITY
Underground parking garage surveillance system
Secured underground resident and visitor parking
Smoke and carbon monoxide detectors provided in all suites
LAUNDRY CLOSET
European-style stacked front-loading washer and dryer
Quality 12" x 24" porcelain tile flooring